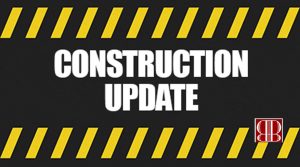 Chartiers Street to Close on Monday, October 24th: an Update on the Widening and South-end Bridge Construction Project.
PENNDOT is planning a three-week full closure of Chartiers Street which will begin on Monday, October 24th. Chartiers Street will be closed to local traffic only at Bank Street and completely closed from Washington Avenue to Dewey Avenue.
Additionally, the first of three extended weekend closures of the Washington Avenue South-end bridge over Chartiers Creek is expected to begin on November 10th and will reopen on the 14th. The second extended weekend closure for the bridge is tentatively planned for November 17 through 21. The third extended weekend closure for the bridge deck overlay may need to be postponed to next year due to weather concerns.
During the Washington Avenue Bridge extended weekend closures, a pedestrian shuttle will operate from 6:30 a.m. to 10 p.m., Friday through Monday. Shuttle stops will be located at the intersection of Washington Avenue and James Street and Route 50 and Millers Run Road/Washington Pike. Designated shuttle stops cycle times are not expected to exceed 30 minutes.
Once completed, this project will include a new seven-lane bridge over Chartiers Creek, a widened Chartiers Street with dedicated turning lanes, and a widened on-ramp to northbound I-79 to carry traffic from Chartiers Street.