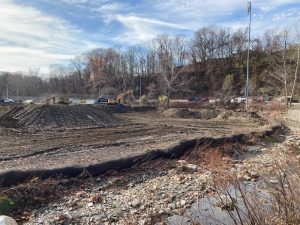 Progress Continues with the Flood Mitigation Project at McLaughlin Run Park
The ballfield is being lowered 4′-6′ and trash racks are being installed in the stream which will prevent large debris during high water from blocking downstream culverts and bridges in town.  This debris will then be diverted into the field area that will also capture some of this water.  Over 1,200 truckloads of earth are being excavated.  Once hauling is complete in early December, the field will be restored to an all-purpose field and the remaining park improvements, including paving, will be completed.
This project is being funded by a grant from Allegheny County and the Commonwealth.