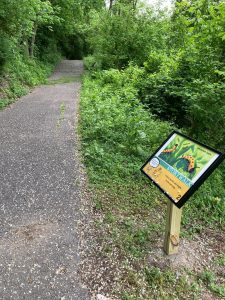 Thanks to the Bridgeville-South Fayette Rotary Club and the Bridgeville Library, there is a new addition to Chartiers Park along the fitness trail.  The Story Walk has 19 stations where children's books will be posted page by page so that families can walk together, read a story and take in nature at the same time. The Story Walk starts behind the concession stand and ends at the playground by Shelter No. 3.
Please join us in dedicating the Story Walk on Saturday, June 11th, 11AM at the Concession Stand at Chartiers Park.
We thank the Rotary Club, Library, Chamber of Commerce, Bridgeville Public Works and all the volunteers that helped with the construction of the Story Walk and for the funding to make this project possible!