The village that eventually became Bridgeville acquired its name from the very first bridge built at the crossing of Chartiers Creek at the south end of what is now Washington Avenue. This is the place where the Catfish Path crossed the creek, as later did Colonel Noble's Trace and Black Horse Trail.
James Ramsey's warrant included this site. He graded the banks to make it easier for wagons to ford the stream and then proceeded to charge a toll for crossing. This decision did not sit well with the local farmers who used the ford; they elected to construct a timber bridge adjacent to the ford. Each of the dissidents was assigned to provide part of the bridge. On a predetermined day they all arrived at the site and began to erect timbers and construct the bridge. Mr. Ramsey's toll collector attempted to stop them, but was frightened away. He went back to Virginia to report this event to his employer.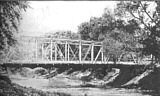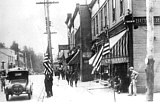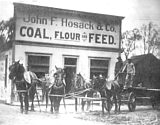 Ramsey elected to resort to litigation to protect his investment in the ford, claiming it was private property. The farmers, however, realized that his rights did not extend into the creek, if it could be declared "navigable." They promptly constructed a boat, filled it with flour from Canon's Mill and Boyce's Mill, and navigated it down Chartiers Creek to the Ohio and from there on to New Orleans. Their bridge survived and became a popular meeting place for travelers on the Black Horse Trail and Noble's Trace.
"Meet you at the bridge" became a part of the local vernacular and provided an obvious name for the tiny village that began to develop just north of the bridge.
Preceding story about the Bridge reproduced from Bridging the Years — Volume III Yearbook with permission from the Bridgeville Community Association
The book chronicles the history of Bridgeville, the coming together of residents and neighbors commemorating the 1901 incorporation of the borough. You can print an order form here.
Some photo history of Bridgeville can be found here. Like trains? Take a peek at some Bridgeville railroad history.