The Parking Authority Office is open Monday through Friday 10:00 a.m. to 3:00 p.m. and Saturday 10:00 a.m. to 1:00 p.m. Closed on Sunday
Parking Authority 304 Hickman St., Suite 2
Bridgeville, PA 15017
ABOUT THE BRIDGEVILLE PARKING AUTHORITY
The Bridgeville Parking Authority serves the Borough of Bridgeville, guests and its residents by providing clean, safe, and well maintained lots. The Parking Authority is self-supporting and does not rely upon tax dollars to operate. The Parking Authority reinvests all profits back into the upkeep and possible acquisition of new lots. All of the lots in Bridgeville are maintained, cleared and policed by the authority at no additional cost to the Borough. The cost of operating the lots is generated from parking revenues. The Bridgeville Parking Authority is also interested in the future of Bridgeville and constantly seeking out opportunities to make parking here more convenient.
Payments for parking tickets can be made through clicking the link at the left or via a drop box located near the entrance of the Parking Authority building at 304 Hickman Street. 

Lots and Street Spaces in Parking System
LOTS AND STREET SPACES ARE ENFORCED 10AM TO 8PM MONDAY THROUGH SATURDAY
All lot and street parking are paid at Pay Stations.
Pay Stations accept coins and credit/debit cards.
The pay stations accept only U.S. coins (quarters, dimes & nickels), Visa, MasterCard, American Express and Discover.
If you pay with coins, the parking rate is $1.00 per hour.
If you pay with a credit or debit card, the parking rate is $1.25 for the first hour, and $1.00 for each additional hour.
Violation costs/fees remain the same.
#1 Washington & PNC Bank 37
#2 Washington & Bank St Ext 122
#3 Baldwin St – permit only 18
#4 Railroad St 35
#5 Station St 61
#7 Taylor & Moore – permit only 11
STREET PARKING PAY STATION LOCATIONS
#1 Monthly $30
#2 Monthly $45
#3 Monthly $30
#4 Monthly $45
#5 Monthly $30
#7 Monthly $30
All Lots No Daily Passes
We also offer three (3) mobile payment options:
ParkMobile
ParkMobile helps millions of people easily find and pay for parking on their mobile devices. People can use ParkMobile solutions to quickly pay for street and garage parking without having to use a meter or kiosk. Additionally, ParkMobile offers parking reservations for concerts, sporting events, airports, campuses and more. Watch the video below to see how we're giving people everywhere a smarter way to park. https://vimeo.com/418536663/c7fb45fa8d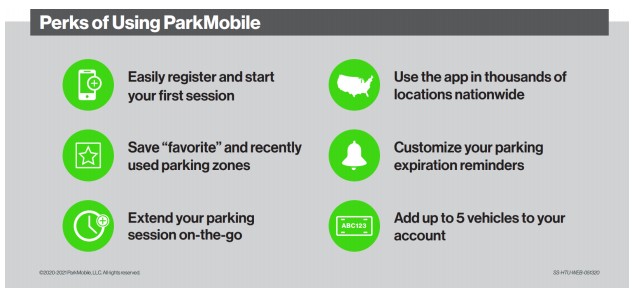 Note: Standard meter rates still apply and there is a $0.35 convenience fee for each parking session.
Pango Parking
The Bridgeville Borough Parking Authority has partnered with Pango USA to give parking customers another convenient payment option for metered parking.  The Pango smartphone app gives user the ability to pay for on-street parking in Bridgeville without ever digging for change or waiting in line at the meter. Complete control of your parking session is in the palm of your hand with the Pango mobile app!
How to Use Pango: 
Install the Pango app by clicking or tapping the link for Android or Apple, or create a Pango account by calling 1-877-myPango (1-877-697-2646).
After parking in a displayed Pango space, look for the 5-digit Zone number on the Pango signs or on a pay station.
Use the app to tap "Pay" and then select the Zone and tap "Start," or call 1-877-myPango (1-877-697-2646) and follow the prompts to enter the Zone.
When you return to your vehicle, tap "Stop" in the app or call back to end your parking session.
Note: Standard meter rates still apply and there is a $0.35 convenience fee for each parking session
Passport
Passport is a transportation software and payments company that builds technology for more efficient streets and sidewalks. Based in Charlotte, North Carolina, Passport is trusted by more than 1,000 cities, universities, and agencies, including Chicago, Toronto, Los Angeles, and Miami. Passport's digital platform
helps cities manage parking and mobility infrastructure, creating more livable, equitable communities. One of the fastest-growing companies on the Inc. 5000 and Deloitte Technology Fast 500 lists, Passport was also named to Fast Company's World's Most Innovative Companies for 2020.
Park. Pay. Be on your way.®
No more digging for coins. This is how parking should be.
Download the app. Find a sign for Passport Parking℠ Pay from your phone.
Note: Standard meter rates still apply and there is a $0.35 convenience fee for each parking session.