Bridgeville Borough government leadership is comprised of the Mayor, Council Members, and other officials who are either elected or appointed to their posts. Below are the members of your local government. You may write to them individually or contact the Borough Office here with regard to Borough business.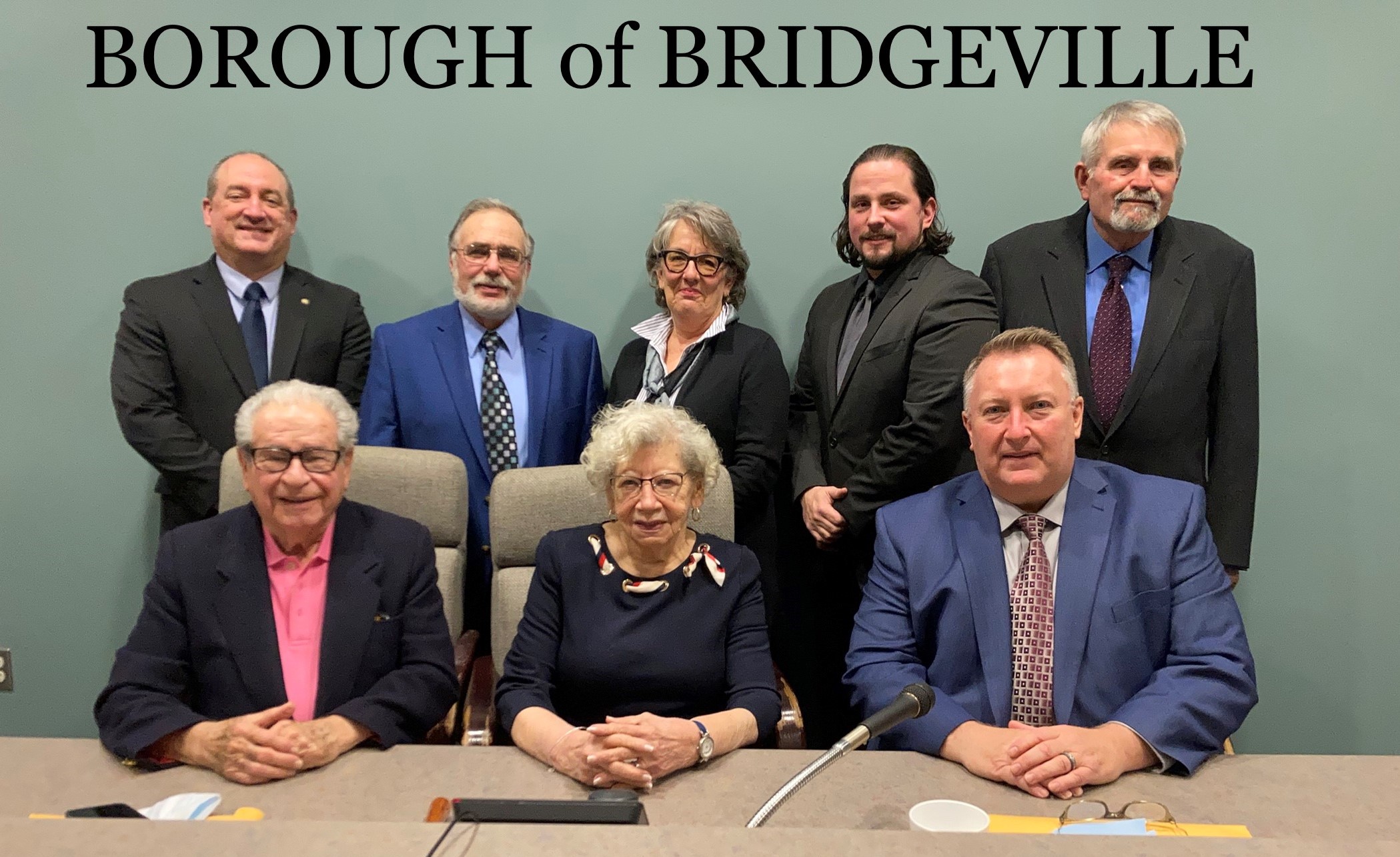 BRIDGEVILLE BOROUGH COUNCIL AND MAYOR:
l-r top row: row Joseph Verduci, Bruce Ghelarducci, Justine Cimarolli, Nick Ciesielski, Joseph Colosimo
l-r seated: Nino Petrocelli, Mayor Betty Copeland, William Henderson
Mayor
Betty Copeland
Members of Council
Nicholas Ciesielski
Joseph Colosimo
Bruce Ghelarducci
William Henderson
Nino Petrocelli, Sr.
Justine Cimarolli
Joseph Verduci
Treasurer
Ronald Womer
Borough Manager
Joe Kauer
Solicitor
Thomas McDermott – Gaitens, Tucceri & Nicholas, PC
Borough Engineer
Kevin Brett – Lennon, Smith, Souleret Engineering, Inc.
Real Estate Tax Collector
Anne Marie Parisi Kean
Nino Petrocelli, Sr.
It has been my pleasure to live in Bridgeville for more than sixty years after my arrival in the United
States of America from my birthplace of Italy. As part of my education while being raised in Italy, I studied Theology, Music, and my passion Design and Tailoring. Following World War II, I was able to immigrate to the United States as a refugee and sought a better life for my family and me. I have been blessed with a wonderful wife and three children who have provided me with my treasures, my grandchildren.
Professionally, for over forty years I owned and operated a successful custom tailor and uniform business located on Railroad Street. Through my profession I served as a member and president of the Custom Tailors & Designers Association (CTDA). One of my favorite pastimes is playing the piano and over the years I have enjoyed entertaining friends through my music.
Public service is something that I value highly and as a result I have volunteered on numerous committees including the Bridgeville Borough Planning Commission. I am a past president of the Bridgeville library having served in that capacity for four years. Additionally, I am a member of the KIWANIS, the Chamber of Commerce, and a member and past president of the SNPJ Lodge #6 in Sygan, Pennsylvania.
I have had the distinct honor of serving the residents of Bridgeville and a member of Borough Council for the past thirty-four years. Looking back over the more than sixty years of living in Bridgeville, I still feel choosing our community was the best decision that I could have made. Why? Bridgeville was and remains a "Welcoming Community". My heart is here with all the citizens of Bridgeville and I will continue to work to maintain and improve the Borough for both residents and business owners.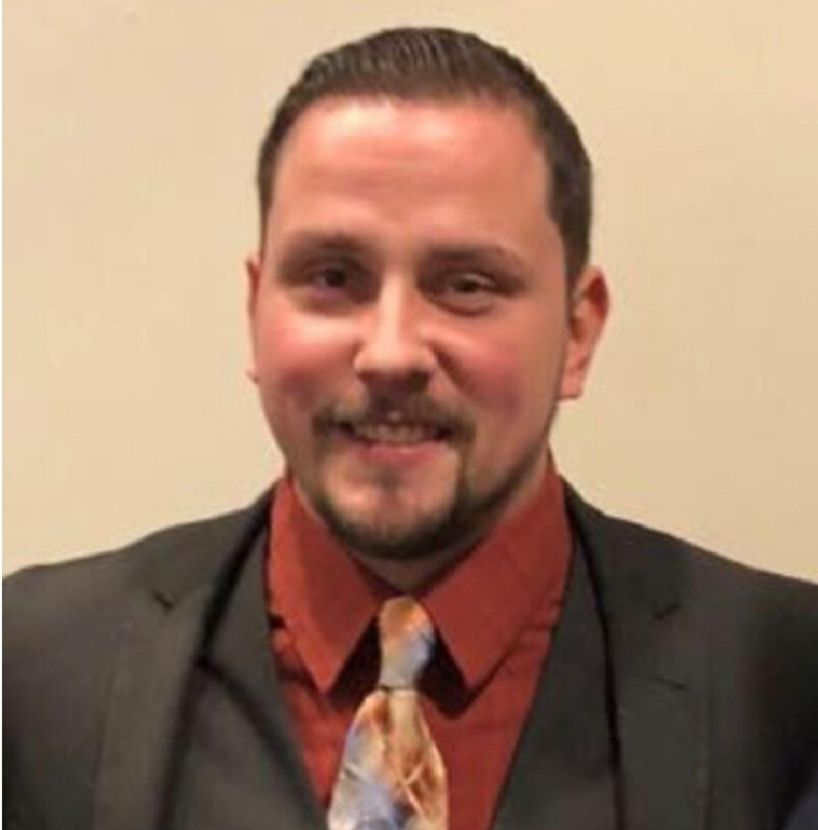 Nicholas A. Ciesielski
Nick has lived in Bridgeville since 1993 with his mother and siblings, to whom he contributes his success. A proud Chartiers Valley High School Class of 2004 graduate, Nicholas furthered his education at Slippery Rock University, where he received a B.S. Elementary Education and a B.A. in Theater (playwriting).
He began his teaching career in our own school district where he worked alongside many amazing people, parents, peers, students, and some of his own former teachers. He then took his passion for education to the AIU and taught at the Allegheny County Jail. It is here Nicholas began to fill his need to help others create their own success. It is within each and everyone of us to effect change, one day at a time, one smile at a time, one community at a time.
No place better to start than at home. Bridgeville is where
his heart lives. His Boston Terrier LILO, his Mother and his siblings, fill it daily. He hopes to rejuvenate and create as much community involvement and pride as he can within his term. His current position at The Railyard Grill and Tap
Room allows him to give back to the Community in multiple facets. While being able to see and hear firsthand, the day
to day concerns of our community, he lives, works, and hopes to further serve our community as best he can.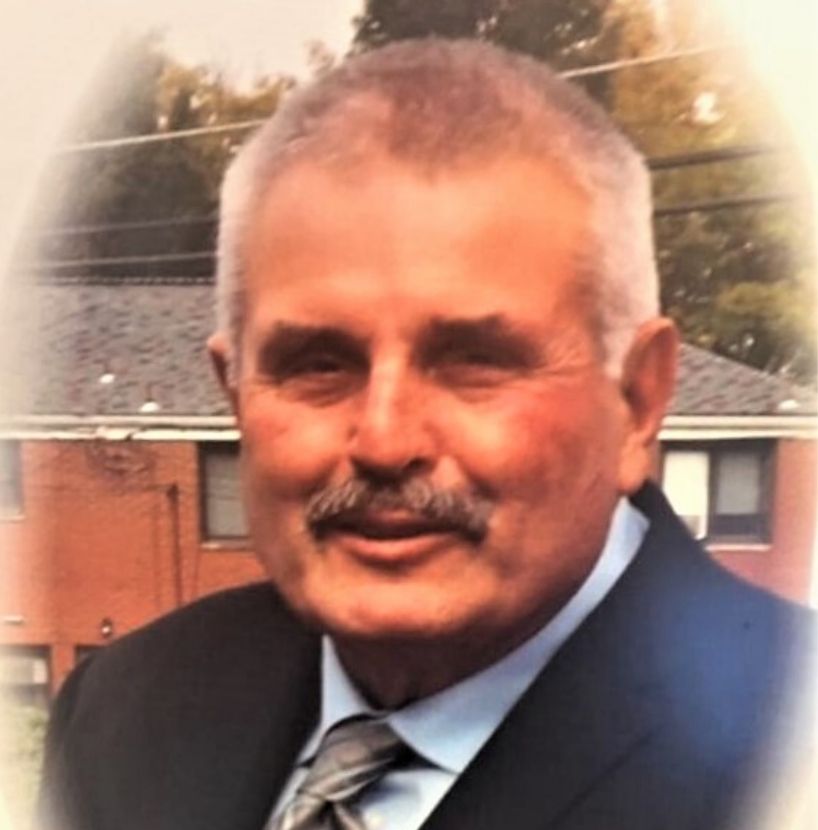 Joseph M. Colosimo, Jr. – "Joe"
A graduate of Canevin High School, I obtained a degree in Business Administration from Robert Morris. Currently employed in construction by CCSI, (Casper Colosimo & Son, Inc.)
I care about Bridgeville. My wife, Deb, and I chose to live here and have successfully raised our three daughters here. I have always been an involved member of this community, helping wherever I can and wherever I see a need. I am a delegate on the CharWest Council of Governments, on the Board and a lifetime member of the Bridgeville Area Historical Society; the Board of the Goodwill Housing; a member of the Bridgeville Friends of the Library; an associate member of the Bridgeville Volunteer Fire Department helping wherever needed. In the past I have served on the Bridgeville Zoning Board; the Washington Elementary School PTA board; been a coach, manager and officer of the Bridgeville Athletic Association; the Chartiers Valley School District – booster president and officer for softball, basketball and volleyball.
I believe politics is about public service, not power. I promise to do more than just show up once a month at a Council Meeting. I want to make sure this town stays in good repair, moves forward, remains an affordable, great place to live and work, while still retaining the small town charm that is important for Bridgeville.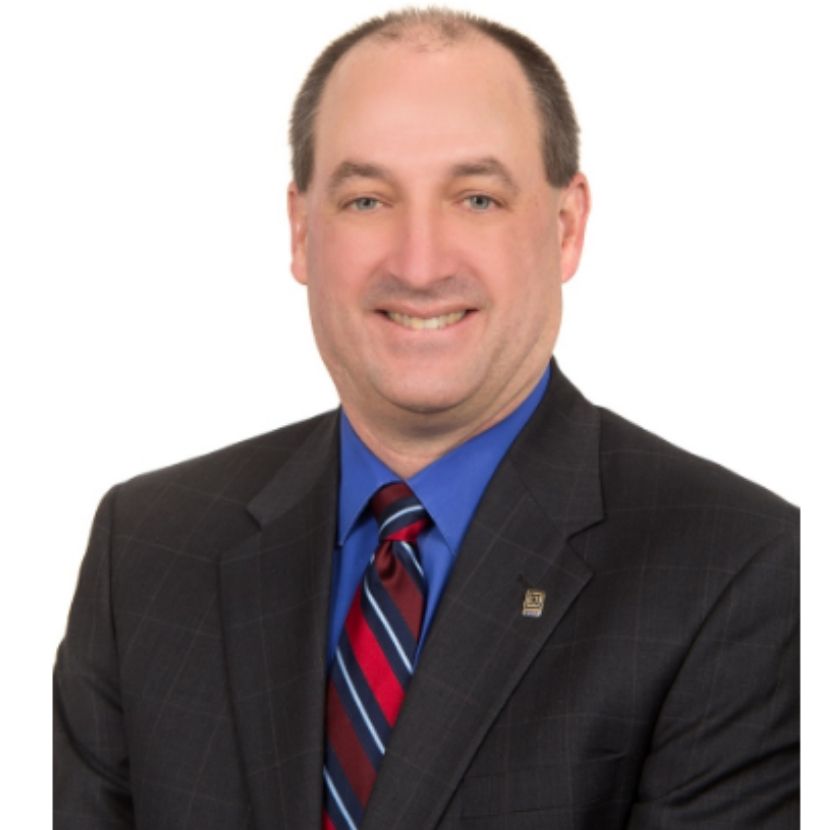 Joseph Verduci
I grew up in Western Pennsylvania and have been proud to call Bridgeville home for 22 years. My wife and I have raised our family in this community, and I feel very fortunate that I have been able to give back to Bridgeville by serving on council for the past four years.
I attended Grove City College, and upon graduating entered the field of finance. I have developed extensive banking experience, having worked in various departments of banking for over 25 years. The past 22 years I have been with Brentwood Bank and currently in charge of the Business Banking Group, which focuses on serving all needs that a business and its owners may have. My responsibilities with the bank have also led to a vast understanding of municipal banking, which has been very beneficial when assisting the Borough on the Finance Committee. The committee continues to introduce new strategies to keep Bridgeville fiscally responsible and to use our tax dollars wisely.
As for my spare time, I have been very active in the community by serving on the boards of the Southwest Chamber of Commerce and the Bridgeville-South Fayette Rotary. These two organizations have truly blessed me by allowing me to work with the community in different ways. In the past, I was also able to share my passion for baseball by volunteering as a Coach, Board Member and President of the Bridgeville Athletic Association over a fourteen-year span when my children were in the program.
I am proud of the hard-working, kind-hearted, fun-loving residents who make our town a great place to live. I am proud to be from Bridgeville and I look forward to continuing to serve in my role as a Councilman. Together with the other members of the Council, and of the community, I will strive to continue to make Bridgeville one of the best towns in the area.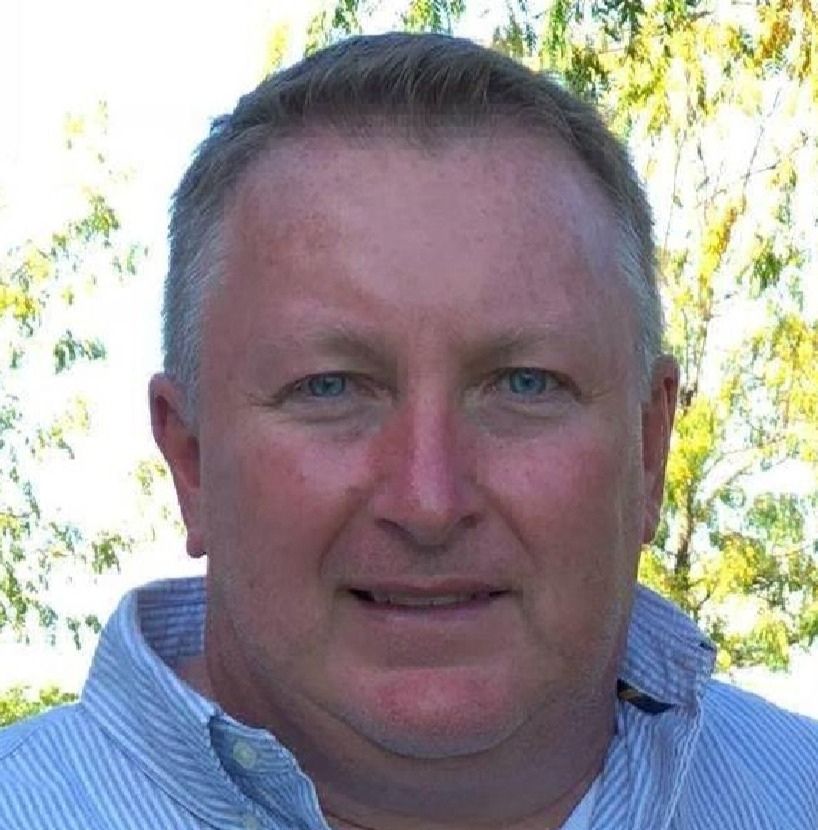 William Henderson
I have lived in Bridgeville for most of my life. I am a product of the Chartiers Valley School system and a graduate of Indiana University of Pennsylvania with degrees in Criminology and Political Science, with additional post-degree work at Duquesne University studying Leadership.
I served eight years on the Bridgeville Police Department rising to the rank of Sergeant before choosing a career in  Insurance Fraud. I have led a team of investigators combatting insurance fraud in the Midwest and Northeast regions for nearly 30 years.
I am currently in my 17th year serving residents of Bridgeville as a member of council. I have prided myself on serving all residents of Bridgeville in a bipartisan manner, believing that we must do what's best for the future of our community when tough decisions arise. I will continue to collaborate with residents, surrounding municipalities and state government to advance business opportunities and correct an aging infrastructure to keep Bridgeville the safe, welcoming walking community that it is.