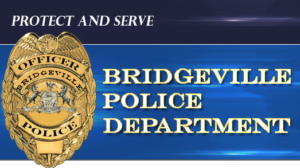 Bridgeville volunteer firefighters assist in all aspects of firefighting, emergency work at vehicle accidents and medical calls, assist with traffic control and respond to a plethora of calls throughout the year in the Borough. 
BVFD recently renovated the Chartiers Room.  If you are interested in renting the hall, please call 412-266-1043.
Are you looking for an exciting way to get involved within your community?  Would you be willing to help a neighbor?  Do you want to be part of something meaningful?  If you answered yes to any of these three questions, the Bridgeville Volunteer Fire Department is for you.
Being a member of the Bridgeville VFD is a unique way to play an active and positive role within the community.  The volunteer firefighters receive free training, equipment, and insurance incentives for answering calls and attending functions. 
If firefighting is not for you, there are roles within the BVFD such as assisting with fundraisers, community events or administrative work that you can be part of.  To join the Bridgeville VFD, please contact Chief Ray Costain at 412-266-1043, email:  bridgeville117chief@gmail.com or visit the fire station.
The BVFD thanks the community for your support!  We could not have made it through this past difficult year without your support both in prayer and financially.  To keep up with BVFD events, news and fundraisers, please like and follow us on Facebook: https://www.facebook.com/BridgevilleVolunteerFireCompanyInc/